Sensory Overload
is pervasive in our world today because of the power of audio and visual influence on people's behavior, especially their addiction to buying things and appetite for instant personal gratification. Sights and sounds have enormous power because they are part of the Cosmos [beautiful order], which is the symphony of our genius Creator-Father. Everything in this Universe is designed to connect with, educate and influence the only species which carries the "image" of the One who created it all and, therefore, the only species that has potentially unlimited volition, free will, the power of choice. Creation is singing and dancing to influence us to acknowledge and choose to join in the Divine Dance with the creating and gathering Person, our Father. We can either be tuned into the world's clamor for your credit-card balance or tuned up and joined in with our Creator's Symphony. It is easy to tune into the world's noise, it's loud and pushy. It takes initiative, concentration and a whole lot of help from the Holy Spirit to tune up and join in with God's Symphony. Right now, it is the still sound of silence to us. We haven't gotten our auditory upgrade yet. It's completely up to you, but a word to the wise, the sensory-overload choice doesn't end well.
Here's some audio and visual encounters that will encourage, inspire and equip: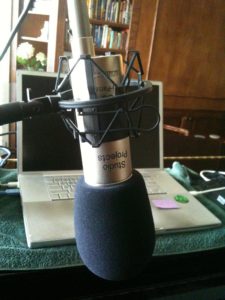 Here there are several of the best radio interviews by stations and radio personalities whose desire was to dig below CatalystPeople's surface into Terry and Nancy Clark's lives with the One who designed and called them. It also offers a weekly featured session of Terry Clark & Friends Radio that includes Terry's music with commentary, as well as the music of musical guests, unplugged live in the midst of honest, relaxed visits between friends who are musicians, pastors, missionaries, businessmen talking about walking with Jesus and the interactions and conversations with Him along the way. Following the weekly featured guest, all the visits are listed in archive access.
CD Sampler – plays samples of all the songs on each of our CDs
Video
These are video encounters meant to encourage us to be more engaged and committed Catalysts right where we are. That the Light of our Creator-Father would be shining brighter wherever He puts us at any given moment, by simply walking with Him, who IS Light.
The A/V Resource Project comes as a result of the knowledge that we are in the very last moments of the age. That means that whether Jew or Gentile, those who have not invited Jesus to take residence in their hearts and take over the guidance and work systems of their lives, will be left to endure the most violent and terrifying time the planet has ever seen. Scripture discloses that many who know the truth will respond with an irrational refusal to "acknowledge Him or give Him thanks." BUT, there will be a multitude who will realize what just happened, when all the true followers of Jesus have disappeared. They will be the ones who hung out on the borders of Christianity but had heard enough of the gospel and teaching of God's Book to recognize what our disappearance means. Many, I've come to believe, will know enough to also realize their own short-lived future full of tribulation, and what they must do to be able to join the rest of us in God's Kingdom. They will be looking to gather with others to immerse themselves in the out-loud reading of God's Book, openly responding to what the Holy Spirit opens their eyes to in the hearing and reading of Scripture so the whole gathering can walk TOGETHER through the thresholds into intimate fellowship with Jesus that the powerful revelation of God puts before each one. "ONE as We are ONE." It is obvious in Scripture that the Internet will still be active, "every eye shall behold Him," "all the earth will rejoice when they see that the two witnesses lay dead in the streets of Jerusalem." So, Catalystpeople.com is aiming at being a continuing supply station for the crucial resources that will encourage those gatherings and equip those saints. The Book says that they will have a very special place in the Throne Room of our Father and King.
5-day Biblical Worship Workshop audio Download all 5 sessions
Audio/Visual Resource Project Video Downloads, live worship sets with lyrics over the majesty of Creation
 Drive-Time Worship GPS Two, weekly-alternating audio series:
And That's Worship – 3-minute audio allegories illustrating distinctive aspects of Biblically-defined worship
Songs with Commentary – 7-minute audio of Terry's songs with his insight into the message the song conveys